Pretty Vintage specialises in the hire of vintage crockery and accessories. Founded by Lucy Morris, the website launched in September 2009, and Lucy is already booked up for much of this summer, and some of next too. Pretty Vintage offers an eclectic selection of vintage teacups and saucers, plates, jugs, sugar bowls, candlesticks and beautiful embroidered table linen.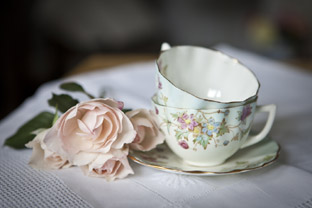 Originally a fine art painter, Lucy ran her own greetings card business. Then having 3 children very quickly (Lucy now has 3 under the age of 4) she wanted to do something from home. The idea of vintage hire came when Lucy was sourcing pieces for her own wedding a couple of years ago; this seemed the perfect solution. Pretty Vintage was born!
"I have loved vintage china for as long as I can remember so this gives me the excuse to spend lots of time looking for the prettiest things I can find" says Lucy, who offers a bespoke service sourcing additional items for any setting or special occasion. Lucy sources her products from all sorts of places: eBay, car boot sales, auctions and antique fairs. As she becomes better known, people ring her up and say they've found a lovely tea set in the loft!
Over the last few years vintage has become increasingly popular with people looking for an answer to our throw-